Well, October has come and gone and once again I fell off the #write31days wagon. But. I have a few more thoughts and an interview with Hannah Anderson AND a book giveaway, so hang in there for one more week of Know Thy God, Know Thyself.
I studied the passage in Luke on Mary and Martha for a workshop I gave last summer, "Being Women of the Word." In my study, I asked the question, what does it mean to love God with my heart, soul, mind, and strength? I think the passage in Luke is structured so that this story (of Mary and Martha) is meant to illustrate what the answer is. And while I knew the story of Mary and Martha was a classic go-to text for teaching women ("I know, I know, don't be a Martha," many a woman said to me as I was preparing), I had never really thought about all of its implications for me, as a woman.
The first point I landed on, then, was this: Loving God looks like sitting at Jesus's feet.
Mary "sat at the Lord's feet and listened to his teaching." There are a few things we should notice about this. First of all, sitting at the Rabbi's feet was the proper place for a disciple. Many in the culture would have affirmed Martha's concern. A woman belonged in the kitchen! But here Jesus teaches something that is crucial and sweet for us as women–we are called to be his disciples. This might seem basic and obvious, but let's think about it functionally. We all have different callings. We have different gifts; we're in different seasons of life. I have many roles–I am a wife, mom, MC leader, friend, sister, daughter, etc. Martha thought she was faithfully fulfilling her calling as a hostess and thought it reasonable to call her sister to do the same. But we see here that while we are entrusted with many different roles and responsibilities, we have a primary calling to be disciples of Christ first and foremost.
Anderson looks at this passage as well, though she points out that it's less about a calling to be a disciple and more about bearing the image of a God of knowledge. She comments on a woman's place:
"In Martha's mind, Mary should have been serving not learning. That's what women do after all, right? We're the nurturers, we're the hostesses, we're the caregivers. Mary needed to be in the kitchen, not at Jesus' feet.

But Jesus said something surprising. 'Martha, Martha.' He said, 'you are anxious and troubled about many things, but one thing is necessary. Mary has chosen the good portion which will not be taken away from her.'

The good portion.

And with these words, Jesus turned the idea of 'women's work' upside down. For Him, the greatest work Mary could do that day was to sit at His feet and learn from Him. The greatest work she could do was to become like her teacher–the Logos Himself. The greatest work she could do was to become an image bearer who reflected His knowledge." (Made for More, chp. 7)
She goes on with perhaps one of my most favorite paragraphs in the book:
"When Jesus approved of Mary sitting at His feet, He invited all women to do the same. And here, all that Eve lost when she was deceived and fell into ignorance, He redeems by enabling us to become women who can open our mouths 'with wisdom' (Proverbs 31:26). In the end, we pursue learning because God is a God of knowledge and thought and wisdom and in order to reflect and represent Him, we must become women of knowledge and thought and wisdom." (chp. 7)
Speaking of Mary and Martha, however, Anderson points out our tendency as women to run to the "pink passages"–those places in Scripture that are specifically about or directed toward women. The danger here, she points out, is that "we make womanhood the central focus of our pursuit of knowledge instead of Christ."
I think it's pretty natural–we want to know how to live as women. We want to know what it means to follow Christ as a woman. It's not that those are inherently terrible questions, but I've been drowning in them. When I'm searching for answers about a role I'm supposed to fill, inevitably I find myself trying to measure up to someone else's standards. I'm busy trying to be "Super Wife" and "Super Mom" and all my learning only serves to bury me under a pile of dos and don'ts and unachieved Pinterest pins. So eventually I toss all of that aside and throw myself into theology and ministry and more "spiritual" things that become so disconnected from my life as a wife and mother that I begin to resent these roles and dream of the day when I can go back to school or pursue ministry full-time.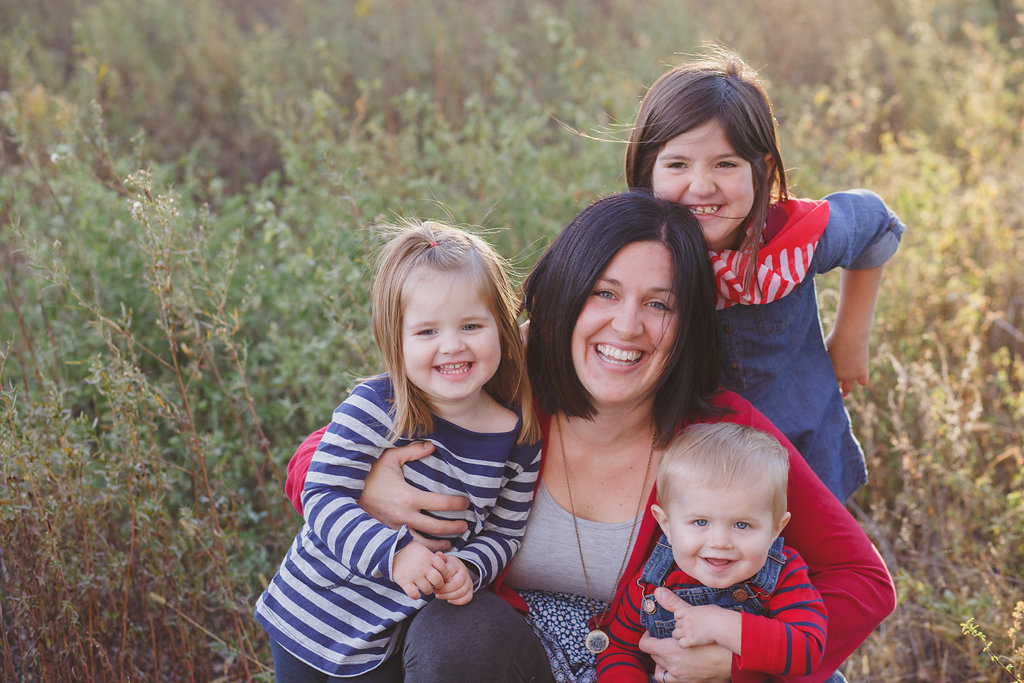 But I don't want to find the balance. I don't want to walk a tight-rope between my desire to learn and grow as a disciple of Christ and my desire to learn and grow as a wife and mother and godly woman. And I think looking through the holistic lens of imago dei is the "radical middle."
"When you pursue knowledge of Christ, the Logos of God, you will be transformed from the inside out. You will adorn what Peter calls the "hidden person of the heart," which will naturally express itself in your womanhood as quickly as it will into every other facet of your life–from your unique personality to your closest relationships to the work He has called you to do." (chp. 7)
It's similar to the conflict many women feel between work and home, or for many of us stay-at-home-moms, the idea of choosing between using our gifts and serving in our homes. Hannah offers, again, the radical middle–
"We must stop assuming that our homes and our gifts are separate. Being women who work imago dei means being women who are productive and sacrificial wherever we are because our God is productive and sacrifical everywhere that He is. Working imago dei means working like Him." (chp. 8)
This is a new way of thinking for me, in my I-like-extremes kind of brain. The problem is, we've got black and white and I've been trying to go with gray, but it turns out it's actually yellow.
If I could summarize what I'm learning right now, maybe that's it. It's all yellow.
Or purple. Or orange.
But so very not gray.
And what I mean is, there's no balance. There's no homemaker-disciple balance. There's no workplace-home life balance. There's just imago dei. And it's expressed in innumerable ways because God is so diverse and creative that he could manifest His image in a gazillion people and we have not even skimmed the surface of who He is. And yet He is so unified that He can take those gazillion different people and build each piece together into a greater whole that is the dwelling place for God by the Spirit (Eph. 2:22).
And Christ is the head,
and Christ is the Cornerstone,
and in Him, all things hold together.
/////////////////////

This post is part of my Write 31 Days series, Know Thy God, Know Thyself. To read more posts from this series, visit the Introduction here.
To learn more about the book that inspired my series, visit Hannah Anderson's blog.