Jordan and I have been reading God Rest Ye Merry by Doug Wilson in preparation for the Christmas season. Like many couples (I assume), we came into marriage with different backgrounds and traditions surrounding Christmas (and, you know, everything), and it's a process to sift through the differences and decide what we will keep, what we will discard, and what we will start for ourselves. Last year was…bumpy. So we decided this year to let Doug Wilson offer a little guidance. While we may not agree with every word they've written, we really appreciate how the Wilsons approach life – their love and enjoyment for the Lord and his blessings are evident, and we long for a similar joy to mark our home as well. I quoted a bit from his book as part of my 31 days of joy series, but here is an excerpt more specifically related to Christmas:
This period of Advent is one of preparation for Christmas…Here are some key principles:

Do not treat this as a time of introspective penitence. To the extent you must clean up, do it with the attitude of someone showering and changing clothes, getting ready for the best banquet you have ever been to. This does not include three weeks of meditating on how you are not worthy to go to the banquet. Of course you are not. Haven't you heard of grace?

Celebrate the stuff. Use fudge and eggnog and wine and roast beef. Use presents and wrapping paper. Embedded in many of the common complaints you hear about the holidays (consumerism, shopping, gluttony, etc.) are false assumptions about the point of the celebration. You do not prepare for a real celebration of the Incarnation through thirty days of Advent Gnosticism.

At the same time, remembering your Puritan fathers, you must hate the sin while loving the stuff. Sin is not resident in the stuff. Sin is found in the human heart – in the hearts of both true gluttons and true scrooges – both those who drink much wine and those who drink much prune juice. If you are called up to the front of the class, and you get the problem all wrong, it would be bad form to blame the blackboard. That is just where you registered your error. In the same way, we register our sin on the stuff. But – because Jesus was born in this material world, that is where we register our piety as well. If your godliness won't imprint on fudge, then it is not true godliness.

Some may be disturbed by this. It seems a little out of control, as though I am urging you to "go overboard." But of course I am urging you to go overboard. Think about it – when this world was "in sin and error pining," did God give us a teaspoon of grace to make our dungeon a tad more pleasant? No. He went overboard.
To start, we needed it to start looking like Christmas around here:
Adrienne needed to be trapped out of the festivities to watch from a distance, which she didn't mind for a little while: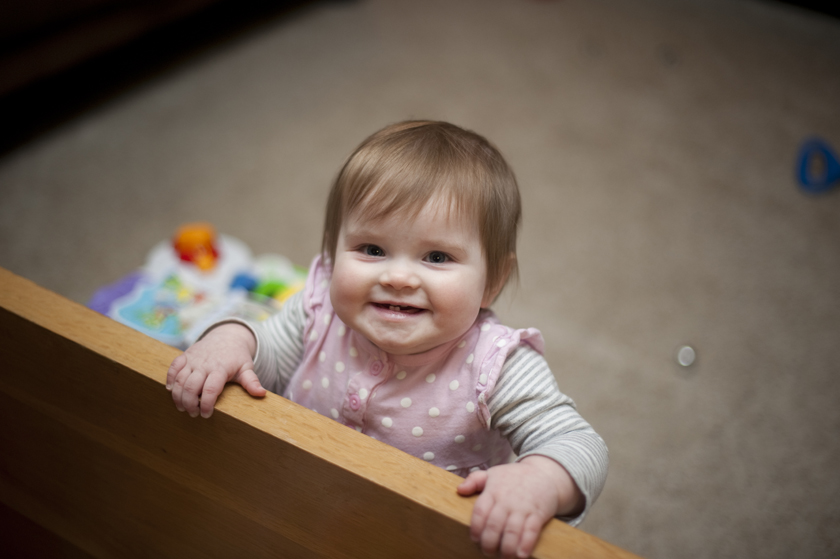 But eventually did not appreciate.
Jordan had no idea how to work a tree skirt…
Our tree is a bit on the Charlie Brown side of things. We had to use broken branches to secure the star in place…
We even hung a few lights and ornaments outside. There are more to hang but it's been cold and windy. Maybe they'll make it up before Christmas is over…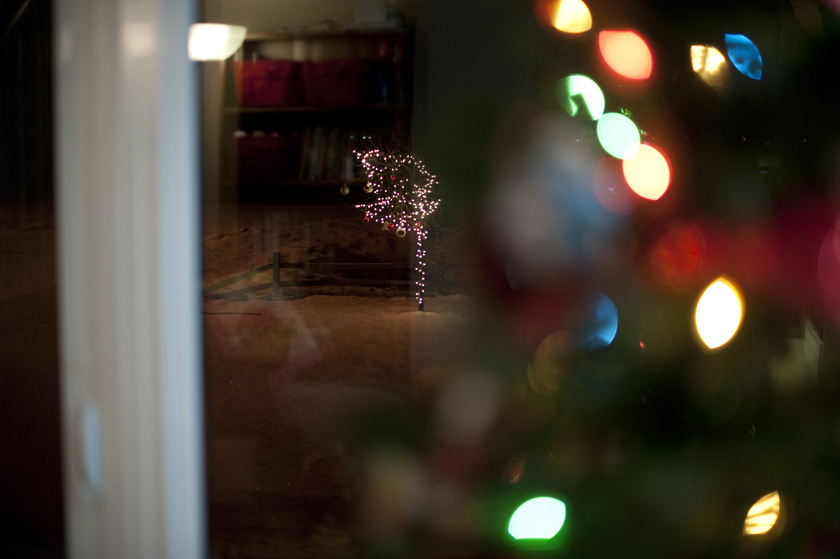 And for Thanksgiving we made a "Thankful tree," which we hung with homemade ornaments of what we were thankful for. We've now transitioned to Christmas decor:
We also made a little Advent calendar to celebrate and count down the days until Christmas:
I try to avoid Pinterest, so I'm sure all of these things are on there, but I'm thankful for friends who email and facebook links. 🙂 One friend shared this great Advent reading plan with the Jesus Storybook Bible, and a list of fun ideas for activities and outings to do throughout the season (I came across this list as well). So each little bag has a card (not a cute, decorated card, just an index card with some handwriting on it. We're going for functionality here!) and lists a story to read, verses to memorize (we're working on memorizing Luke 2:1-21 over the course of this month), and an activity for the day. The activities are not exactly extravagant and some are more involved than others. So far we've watched some Christmas movies, decorated the girls' room with lights and a little Christmas tree, hung some snowflakes (after a failed attempt at making some paper ones), went to an art class through Fargoparks and made a Christmas present for Jordan, and made a felt Christmas tree (which was a great idea from my friend Casey, only ours lacks ornaments on the bottom because Adrienne seems to think they look like great snacks) :
So far it's been fun, without a ton of prep work and yet something Hadley looks forward to every day. We're learning and growing and joy is (sometimes) abounding.