Simple living is all the rage these days, and I'm afraid I've jumped on the bandwagon. There is something in particular about this season of, "More, more, more!" that sets me on a mission of, "Less, less, less!"
Books like Simplicity Parenting and Organized Simplicity started me down this path several years ago, inspiring a life built around people, not stuff; space, not clutter; purpose, not busyness. Recently, Shauna Niequist's Present Over Perfect caused me to pause and evaluate where we find ourselves these few years later. Does this stuff, this pace of life, this trajectory, honor God and serve our family and others well?
Perhaps we have lost sight of what's important?
Please hear me: These books only go so far. "Simple living" is not the gospel, nor is it the only expression of biblical obedience. These books have many shortcomings, and I'm interested to explore further this intersection between the gospel of Jesus Christ and a minimalist life. Another day.
Today, I'm thinking about this online course I took a couple of years ago. It used the metaphor of "paddling upstream," calling you to a counter-cultural life. But rather than offering a pattern to follow, the course gave a new definition of the simple life: "Living holistically with your life's purpose." Basically, a simple life is one where your choices and actions align with who you are and what you value. So the course walks you through the process of determining those things: Who did God create me to be? What do I care about? What are my callings and responsibilities? How do they all fit together? You create a purpose statement that becomes your grid for evaluating decisions you make. Does this align with my values? Does this continue me down the trajectory I've determined is right for me and my family?
As with all the books on the subject, this course only goes so far. It requires discernment to glean what is true and helpful and reject what is not. It requires the truth of Scripture and the wise counsel of biblical community to help us sift through our own biases and our culture's lies. But as I look at my purpose statement hanging on my office wall, I'm reminded of the definition and clarity I felt upon completing it. I'm reminded of how it aligned Jordan and I and helped us to better understand each other. And I'm reminded of how easy it is to lose sight of who God has created us to be and what he has called us to do.
I love new years. And firsts. And Mondays. And this course was just revised and updated. So I've decided it's good timing for a refresher. Want to join me? I'd love to hear what you're learning as you process what it means to live holistically with your life's purpose. And I'd love accountability and camaraderie as we consider how to navigate a Christ-centered, counter-cultural life. Let me know if you sign up. 🙂
///////////////////////////////
**This post contains affiliate links.
It's no secret that I'm a fan of Hannah Anderson's writing. Her book, Made for More started an important conversation for me, one that began to expose the ways I defined myself in relation to people and responsibilities and expectations. She took me back to the beginning, to that moment God breathed life into humanity, and dared me to see myself as created imago Dei first and foremost. She gave me permission to consider who God created me to be, to shed the shackles of expectations and performance and to live in the freedom of the imago Dei redeemed.
She's basically my B.F.F.
This conversation about life lived from a place of wholeness has been joined by other great authors since then. (And a really great therapist, because it turns out, when you open the door to living courageously, it's like opening the door to an overstuffed closet: junk starts to fall out.)
When I joined Hannah Anderson's launch team for her latest book, Humble Roots: How Humility Grounds and Nourishes Your Soul
(Moody Publishers, released Oct 4, 2016), I expected to love it. But despite reading her intention to continue the conversation she began with Made for More, I wasn't prepared for it to further the conversation I've been having in my head. (And with my husband, because I'm not completely crazy.)
I had just returned from two weeks in Nepal. Two weeks of dream-following without kid-smothering. Two weeks of reading books and actually hearing myself think. Two weeks of intake without much output. So naturally, I arrived home with no luggage in sight but with plenty to unload on this husband of mine.
I was telling him about something like self-compassion or healing or something equally self-helpy, ideas that would have always made my stomach turn. He responded with raised eyebrows. I could tell his stomach was turning, too. I attempted to explain:
I've spent the past couple of years gaining a familiarity with shame and its resulting codependency, trying to understand the pathway to emotional, relational, and spiritual health.
That sounds all clinical, so I'll spell it out like this: I've known for awhile that I live plagued by shame, constantly beating myself up for my perpetual not-enoughness. And I know I'm not alone. Brene Brown's TED talk on shame has been viewed over 6 million times. She calls shame an epidemic in our culture, thriving in secrecy, silence, and judgment. The antidote, she proposes, is empathy. When we vulnerably take the risk to share our imperfections, and we are met with empathy–someone saying, "Me, too"–shame will begin to lose its power over us. And the way we will find the strength to be that vulnerable is by living from a place of worthiness, by believing we're enough.
The trouble with this solution and others from a secular or generically spiritual perspective is that they neglect to address the problem of sin. Rather than looking outside of us for a Savior, they point us within ourselves for acceptance and worthiness. The problem is, If I try to convince myself that I am worthy, I know it's crap. It's like I'm back in the garden, suddenly aware of my nakedness. I'm exposed as the fraud I am. I can tell myself that I'm enough, but I know deep down that I am completely unworthy. Not enough, never enough. And so the shame continues.
The solution to shame is not believing that I'm enough, it's believing that Jesus is enough. If He really took all my sin and shame upon Himself to the cross, then there really is no need for me to carry it around now. On my own, I am unworthy, but now I've been ransomed with something more valuable than silver or gold–with the precious blood of Christ (1 Peter 1:18-19). I am declared worthy; Christ in me is enough.
If God is the only one who can condemn me, and He doesn't because I am hidden in Christ (Romans 8:33), then the problem of shame has been dealt with completely. I am free to be vulnerable about my weaknesses and failures because my acceptance is not dependent upon their approval. (1)
This is just bringing you up to speed. Despite landing here last year, these truths have been slow to get inside of me. I find myself living for the approval of others, desperately trying to keep up with their expectations and demands, real or imagined. I've sent my representative (2) out into the world, living life the way others think I should. And when I prove that I cannot live up to the impossible standards set before me, the cycle of shame continues.
And despite knowing that Jesus bore my shame, I continue to try to live life without Him. I am running ragged, trying to be all things to all people, exhausted, anxious, and weary.
But enough is enough.
So I'm trying to explain all of this to my husband who is patiently trying to follow the stream of consciousness of someone who has been traveling for 48 hours and is unloading two weeks worth of thoughts. Understandably, he's struggling a little. He understands the need to release the expectations of others and to live before the face of God. But what about when we don't live up to God's standards? Aren't we to take our sin seriously? How can we #embracetheimperfection, when the imperfection is our sin?
I think it's more like embracing our humanity, I said. It's acknowledging the reality that we are human and we are going to fail, so we shouldn't be surprised when we do. It doesn't mean sin doesn't matter, but it does mean that because we are fallen, our continued struggle with sin keeps us dependent on grace. We don't get to outgrow our neediness.
And, let's be honest: the shame we feel isn't always related to sin. It's often over the fact that we can't do it all. This flies in the face of our prideful self-sufficiency. We are ashamed of our limitations.
This is where Hannah Anderson enters the conversation. Her book, Humble Roots invites us to consider our human limitations as an invitation to humility and, ultimately, an invitation to rest from our frenetic lives. She contends, "Humility frees us to flourish as the human beings we were made to be: to celebrate the goodness of our physical bodies, to embrace the complexity of our emotions, and to own our unique gifts without guilt or feeling like an imposter" (12). These frequent sources of shame and unworthiness become unlikely places where dependence, gratitude, and worship can grow.
She writes to help us learn to humbly accept our human limitations, and this brings us full circle to what Brown calls the antidote to shame: vulnerability and empathy. We despise vulnerability, because it exposes our weakness and failures. But when we embrace our human limits, Hannah writes, we don't have to pretend to be like God. We can vulnerably allow ourselves to feel the breadth and confusion of our emotions and experience grace there (114). We can vulnerably enter into the uncertainty of our limited knowledge and understanding (131). We can vulnerably risk using our gifts and sharing them with the world (152). We can vulnerably pursue dreams that may never come to fruition (165). And as we do that, we will experience freedom and rest in the One who humbled Himself for us (57). We will be free to stop hiding and will be able "to say to God and others, "I am not enough, I need help" (186).
I'm sure it's not the end of the conversation, but Hannah's voice is an important addition.
——————–
As part of Hannah's launch team, I received two copies of Humble Roots in exchange for my honest review. These thoughts are my own. I highly recommend her book and have a copy to give away! To enter, just leave a comment below. The winner will be selected and notified on Monday, October 24th. [[The giveaway is closed. The winner is Emilie!]]
——————–
(1) Heather Nelson's book Unashamed is an excellent companion to Brene Brown's work and Hannah Anderson's book. Highly recommend!
(2) I first heard this language from Glennon Doyle Melton's book, Love Warrior. While I wouldn't endorse her theology, her writing is refreshing.
**This post contains affiliate links.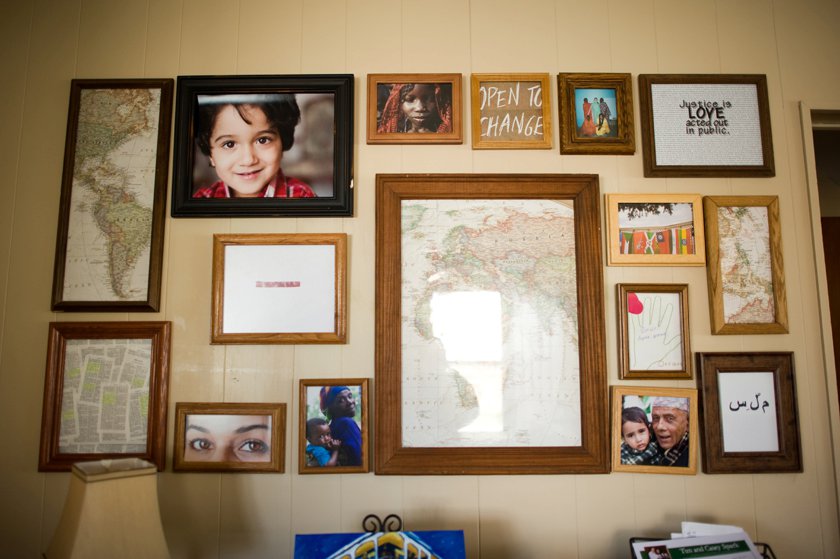 "Brave," by Sara Bareilles is our favorite song right now. We turn it up loud and sing it at the top of our lungs, and when it's done they shout, "Again!" and I comply because I love it, too. And because usually I'm busy on the phone and the music is playing so they don't eavesdrop or interrupt or some combination of the two. And because I remember doing that with my mom, blasting Huey Lewis and the News, Doobie Brothers, and later Newsboys, Geoff Moore, Audio Adrenaline and other WOW 1996 classics.
I started a blog post on courage on June 6, 2015. I didn't get beyond the title, but it had become a word I was clinging to, one I desperately wanted to define not just in words but in life. In the midst of trying to figure out why I was hiding and what it meant to be free, that word beckoned me like an open door. I've defined it so many ways in my short 30 years: It takes courage to be the new girl. To jump off of cliffs and to travel alone across the world. To follow my dreams. To leave home. To speak on behalf of the oppressed. To be an activist.
It takes courage to come home. To raise a child alone. To start a business.
It takes courage to give it all up. To entrust your imperfect, sinful self to someone imperfect and sinful. To build a life together filled with life and death, chaos and calm.
I considered myself pretty courageous.
But suddenly that courage felt pretty shallow as I looked in the mirror, unsure of who I'd become. Somewhere along the way I stopped talking. Stopped writing. Stopped being the things I always thought made me me. I tiptoed around my life, unsure of my place, my purpose, even my perspective on much of anything.
Then I discovered people who wrote about courage. Their definitions drew me back to the life I used to know, to the parts of me that felt free to explore and adventure and risk and speak up without caring what anyone else thought.
But that courage lost its appeal. Because now I have people and responsibilities and a life and I can't just leave it all behind and start something new. Not just can't, don't want to. That wouldn't be me any more.
I know in Christian circles we mock the elusive search for self and so I've hid in the background afraid to admit the truth: I'm not sure who I am.
We mock because we know Disney mostly gets the answer wrong. "Finding myself" is less like Cinderella and more like Finding Nemo. I'm not finding the princess inside of me that was always there, I'm just on a journey that feels like it's never going to end, only to realize that it's the sum of the journey that equals me.
"Me" is ever-changing, praise God, because this work that He's begun is only the beginning. But how am I to live in the meantime? Embracing the image of God in me while knowing how marred it is? Embracing that which makes me me while knowing that life is not some play acted out in which I'm the main character. The story is not ultimately about me.
This is where courage comes in, and why I've been stuck here for awhile. I knew how to be courageous in a different life, but that's not the courage required of me today. And as I've made my own definition, I've started to wonder if this had been my definition all along, what difference that might have made.
I'm headed on a new adventure: one I have dreamt of since I was a child and yet which feels incredibly foreign to me. I'm packing up my camera and computer, my love for Scripture and for teaching and for oppressed women and I'm heading halfway across the world. And I am terrified. Only, not for the reasons you might think. I'm not scared of terrorism or persecution or death. I'm ready for death. Give me Jesus.
I'm scared it will be wonderful.
I'm scared I will remember my dreams. That I will rediscover those parts of me that I've buried. That suddenly I will rediscover the world behind a camera lens, and I will overflow with words describing the beauty and fear and the lives of people made in the image of God. That I will remember the excitement and the exhaustion of travel and adventure.
Somewhere over the last few years, my fears have gotten louder. I don't want to feel afraid, so I choose not to feel. But Brene Brown says you can't numb one feeling without numbing all of them. If I refuse to feel fear or sadness or rejection or pain, I also refuse to feel joy, excitement, intimacy, connection.
It turns out, courage means feeling them all. Courage means inviting Jesus into the pain and uncertainty and possibility of disappointment. Courage means knowing Jesus makes me okay whether I am accepted or rejected, in Nepal or Fargo, writing books or wiping noses.
Maybe this trip is the culmination of all of these months of wrestling with my fears. It's the opportunity to be courageous, not by traveling across the world, but by coming home again. It's the opportunity to bravely allow these pieces of myself to re-enter the scene. To welcome them gently and not run from them, but also to see that they are not what they used to be. Freedom to be myself does not mean reclaiming some foreign self I used to be.
Because Jesus makes beautiful things out of the dust.
I am the sum of the journey. These years have not been wasted but fruitful. The wilderness is where dependence grows; the hidden years are the ones marked by deepening roots. The fruit is yet to be seen. This trip is just one stop along the way. I cannot anticipate what it means for the journey and the uncertainty is terrifying. And, usually, if I can't figure it out, I choose to put it away.
But today I pray for grace to lean into the uncertainty. To trust that the God who places me in the wilderness is the one who gives the growth.
To trust that the God who gives trips across the world is also the one who gives babies who keep us close to home.
To trust that the God who made me to love culture and color and people and beauty and words has not made a mistake in placing me where I am.
Courage looks like facing my fears. Not by following my dreams, but by holding them with open hands. Not by bravely living before others, but by standing confidently coram Deo–before God's face–resting in His grace lavished upon me not because I am brave, but because in Christ, I am His.