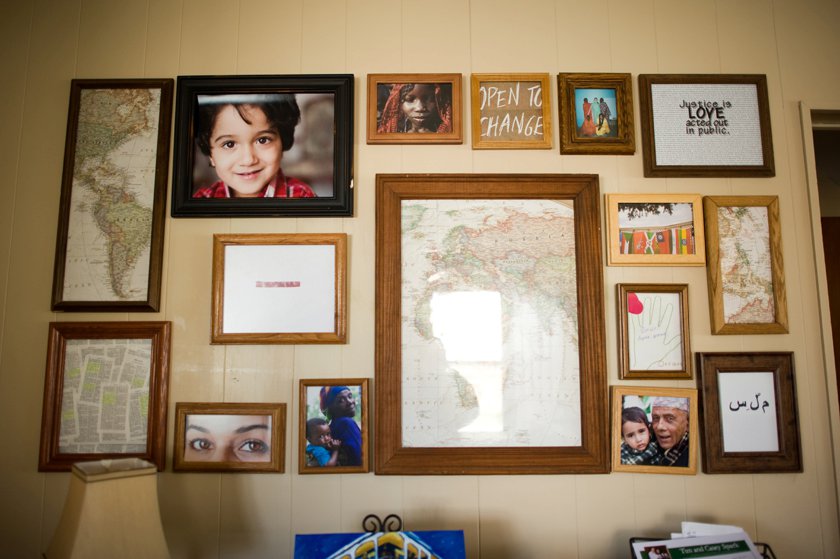 "Brave," by Sara Bareilles is our favorite song right now. We turn it up loud and sing it at the top of our lungs, and when it's done they shout, "Again!" and I comply because I love it, too. And because usually I'm busy on the phone and the music is playing so they don't eavesdrop or interrupt or some combination of the two. And because I remember doing that with my mom, blasting Huey Lewis and the News, Doobie Brothers, and later Newsboys, Geoff Moore, Audio Adrenaline and other WOW 1996 classics.
I started a blog post on courage on June 6, 2015. I didn't get beyond the title, but it had become a word I was clinging to, one I desperately wanted to define not just in words but in life. In the midst of trying to figure out why I was hiding and what it meant to be free, that word beckoned my like an open door. I've defined it so many ways in my short 30 years: It takes courage to be the new girl. To jump off of cliffs and to travel alone across the world. To follow my dreams. To leave home. To speak on behalf of the oppressed. To be an activist.
It takes courage to come home. To raise a child alone. To start a business.
It takes courage to give it all up. To entrust your imperfect, sinful self to someone imperfect and sinful. To build a life together filled with life and death, chaos and calm.
I considered myself pretty courageous.
But suddenly that courage felt pretty shallow as I looked in the mirror, unsure of who I'd become. Somewhere along the way I stopped talking. Stopped writing. Stopped being the things I always thought made me me. I tiptoed around my life, unsure of my place, my purpose, even my perspective on much of anything.
Then I discovered people who wrote about courage. Their definitions drew me back to the life I used to know, to the parts of me that felt free to explore and adventure and risk and speak up without caring what anyone else thought.
But that courage lost its appeal. Because now I have people and responsibilities and a life and I can't just leave it all behind and start something new. Not just can't, don't want to. That wouldn't be me any more.
I know in Christian circles we mock the elusive search for self and so I've hid in the background afraid to admit the truth: I'm not sure who I am.
We mock because we know Disney mostly gets the answer wrong. "Finding myself" is less like Cinderella and more like Finding Nemo. I'm not finding the princess inside of me that was always there, I'm just on a journey that feels like it's never going to end, only to realize that it's the sum of the journey that equals me.
"Me" is ever-changing, praise God, because this work that He's begun is only the beginning. But how am I to live in the meantime? Embracing the image of God in me while knowing how marred it is? Embracing that which makes me me while knowing that life is not some play acted out in which I'm the main character. The story is not ultimately about me.
This is where courage comes in, and why I've been stuck here for awhile. I knew how to be courageous in a different life, but that's not the courage required of me today. And as I've made my own definition, I've started to wonder if this had been my definition all along, what difference that might have made.
I'm headed on a new adventure: one I have dreamt of since I was a child and yet which feels incredibly foreign to me. I'm packing up my camera and computer, my love for Scripture and for teaching and for oppressed women and I'm heading halfway across the world. And I am terrified. Only, not for the reasons you might think. I'm not scared of terrorism or persecution or death. I'm ready for death. Give me Jesus.
I'm scared it will be wonderful.
I'm scared I will remember my dreams. That I will rediscover those parts of me that I've buried. That suddenly I will rediscover the world behind a camera lens, and I will overflow with words describing the beauty and fear and the lives of people made in the image of God. That I will remember the excitement and the exhaustion of travel and adventure.
Somewhere over the last few years, my fears have gotten louder. I don't want to feel afraid, so I choose not to feel. But Brene Brown says you can't numb one feeling without numbing all of them. If I refuse to feel fear or sadness or rejection or pain, I also refuse to feel joy, excitement, intimacy, connection.
It turns out, courage means feeling them all. Courage means inviting Jesus into the pain and uncertainty and possibility of disappointment. Courage means knowing Jesus makes me okay whether I am accepted or rejected, in Nepal or Fargo, writing books or wiping noses.
Maybe this trip is the culmination of all of these months of wrestling with my fears. It's the opportunity to be courageous, not by traveling across the world, but by coming home again. It's the opportunity to bravely allow these pieces of myself to re-enter the scene. To welcome them gently and not run from them, but also to see that they are not what they used to be. Freedom to be myself does not mean reclaiming some foreign self I used to be.
Because Jesus makes beautiful things out of the dust.
I am the sum of the journey. These years have not been wasted but fruitful. The wilderness is where dependence grows; the hidden years are the ones marked by deepening roots. The fruit is yet to be seen. This trip is just one stop along the way. I cannot anticipate what it means for the journey and the uncertainty is terrifying. And, usually, if I can't figure it out, I choose to put it away.
But today I pray for grace to lean into the uncertainty. To trust that the God who places me in the wilderness is the one who gives the growth.
To trust that the God who gives trips across the world is also the one who gives babies who keep us close to home.
To trust that the God who made me to love culture and color and people and beauty and words has not made a mistake in placing me where I am.
Courage looks like facing my fears. Not by following my dreams, but by holding them with open hands. Not by bravely living before others, but by standing confidently coram Deo–before God's face–resting in His grace lavished upon me not because I am brave, but because in Christ, I am His.
"I have a sickness only the ocean can cure," I lamented to my husband.
It emerges unexpectedly, this sudden restlessness that makes me want to run to the coast, to stand before that vast expanse of water–to taste the salt and feel the cold water spray my face and remember that the world is so much bigger than just me.
I want to be reminded of how small I am. To remember that the God-man who slept while the waves tossed the boat is also the One who is before all things, and in Him all things hold together (Col. 1:17).
The ocean isn't the only cure, of course. I can look out at the endless prairie or the unobstructed view of the stars and marvel at the God who simply spoke these things into being. "The heavens declare the glory of God; the skies above proclaim His handiwork" (Ps. 19:1). But am I ever paying attention? In the hustle of daily life, the details of three small children, the demands from every direction, is there really time to stop and smell the proverbial roses?
We're in the mountains for a week. This sweet space of time where we can step out of real life and look up to the peaks reaching into the clouds and remember that we are but dust. Who are we that God gives thought to us? It's a peaceful reflection I have anticipated for the weeks leading up to this trip. I planned to take it all in, to drink deeply of the beauty, to worship in the shadow of the mountain.
So I went on a hike with three small children.
I'm looking up at the skies, the way it outlines the mountaintops, the way the trees beautifully contrast against its blue…
"Look, Mom!"
He's holding a dandelion.
"Let's blow it."
We blow the dandelion seeds into the wind. I toss the stem to the ground and march on, trying to usher my two-year-old down the path. He stops to pick up the branch of a pine tree.
"Look, Mom!"
"Uh huh," I respond, leading the way forward.
We arrive at the destination, a breathtaking view of a lake surrounded by snow-covered mountains. After a few minutes, we're the only ones there and the silence is mesmerizing.
"Can I put my feet in the water?"
We stumble down the rocky beach to get to the lake. I can already hear the whining of wet feet and pants on the hike back. I see visions of my children falling in the water, sliding down the rocks, soaking wet with skinned knees.
I'm irritated. I just want to stand and breathe in the silence. I start to pray. I want to believe that I didn't actually pray that God would shut my children up so I could appreciate His creation, but at the moment, it's all I can remember. Perhaps it really was my plea. I didn't say it was pretty.
I thought of a section in N.D. Wilson's book, Notes from a Tilt-a-Whirl. He describes the person praying, "God, what is your will for my life?" And God responds, "Do you see this squirrel?" The person continues to pray, "But really, God, what am I supposed to do with my life?" And God responds again, "Do you see this squirrel?"
There's more to it than what I'm remembering, I'm sure, but ultimately it's this picture of how we think we're so important; how we are so consumed with our needs, our plans, our lives, that we forget to stop and breathe it all in. We forget to remember how small we are, to remember the God who cares even about the birds, who keeps the world spinning with just a word, who holds it all in the palms of His hands.
So I'm praying, "God, would you remind me how small I am?" And it's like He's beckoning me to lean in: "Do you see these kids?" I'm annoyed. "Can you just get them to be quiet? To be still? To stop distracting me?" But instead He draws my attention to their delight. To the way they laugh at the cool water between their toes, the way the dandelion seeds floating in the wind bring them joy, the way they don't need the mountains because a brilliantly colored pebble is enough for them to celebrate.
I'm searching for peace around me, all the while it is offered from within. This peace of God which surpasses all understanding; this God of peace who has promised to be with me.
I'll admit I missed it then. I saw this dialogue play out and still stood there frustrated. Here was something I loved but could not enjoy. I grew resentful as I thought of the many things I tried to share with my children only for them to turn what I considered refreshing and restful into something exhausting and painful. I'll admit that, even now as I reflect on this, I am having a hard time wanting to engage with the fussing outside my door. I want to stay in bed with my coffee and computer, writing about what God is teaching me instead of actually having to live it.
I've been in Philippians 2 this week, this ode to the humble, sacrificial submission displayed first in Christ, exemplified in Paul, Timothy, and Epaphroditus, and set out before me as the path to life. I pondered that selfless life before our hike. Sat and reflected on what it means to seek the interests of my family before my own, to forsake what I think I deserve and embrace the way of the cross, to do all things without grumbling, to hold fast to the word of life. All of this is set before me as the example Christ gave, his footsteps to set the course for mine. But His life is more than that; His attitude of submission is mine as I'm united to Him. His life is both my example and my source; His calling is before me to work out, all the while knowing that it is God who is at work in me, enabling me to desire and to live out His good purpose.
Then I closed my Bible, piled into the car with my family and headed to the mountains, into a day filled with reminders of how my selfishness abounds, of how much I have left to learn.
I guess that's it. There is no pretty conclusion to this story. Only the stark contrast between my sinfulness and God's holiness. Only the hope that God-made-flesh sympathizes with my every weakness and promises mercies that are new every morning.
Here's to another day in the mountains. With three small children.
It's Valentine's Day, and my husband generously took the kids to his dad's for the weekend to give me a little space. For nearly four months, my husband has been persevering through 60-hour work weeks. But despite his own exhaustion, he packed up the kids and gave me a weekend because he knows me and he loves me and if there's one thing I've learned in my eight years of being a mom, it's this: sometimes you just need to miss your kids.
So as I prepare for them to return and I'm feeling refreshed and productive and drinking a cup of coffee that is still hot, I've got some miscellaneous thoughts about marriage and this man of mine.
I browse the Valentine's Day aisle, hoping that a card will jump out at me from a distance, since the crowd of carts and shoppers block any attempts to get close. I squeeze in to pick up a few, but they all fall short. I hate cards. I hate canned messages that are beautiful and poetic but impersonal and distant. How do I find a card with the words to sum up my love, our five years of Valentine's Days: the pain, the chaos, the frustration, the joy? Wearied from the crowding and the little hands grabbing anything within reach of the cart, I call it quits. Empty handed, I head to the checkout. As I load my items onto the counter, a card catches my eye: the cover pictures two trees side by side, their roots intermingled, and an inside that reads, "I love how we grow together." Five years of marriage summed up in a greeting card. I forsake my disdain for Hallmark and toss the card into my pile of purchases.
I've been thinking about tree roots ever since. Thinking about how, five years in, we still just look like little saplings, wondering how we'll make it through the next wind storm. We wish we had more to show for our growth–better communication, fewer arguments, more understanding and laughter and fun. But some days we don't laugh. We hurt each other and we mess up and we wish we could take it back.
I look at pictures from our wedding day and think of how little we knew. Bright eyed and wrinkle-free, we had barely sprouted and yet we felt like mighty oaks, our branches sprawled toward the sky, ready to take on the world.
I didn't know myself when I married my husband. I thought I did–I was vocal, independent, and strong, but my new relationship with Jesus made me question if that was really okay. Maybe I was actually supposed to be quiet, submissive, deferring? 
For five years, instead of figuring each other out, I have tried to figure myself out. I have tried to protect myself, to prove myself, to assert myself. But in the end of all of that, I have felt only lost. I long for connection, for intimacy, for that sense of knowing and being known, and yet I cannot seem to know myself, and my demands for connection remain unquenched.
I've been trying to find my life, only to remember that it must first be lost. Not lost in the man who shares my life; lost in the Man who gave His up for me. The life of Christ in me offers the grace to lean into the mystery of oneness that is marriage, to let go of the fear and the self-preservation and allow myself to be enveloped by this man who sometimes feels like a stranger. And as I do, I find a self that is different than I expected yet more fully alive.
"It doesn't mean being half a person; it means dismantling your person and rebuilding a kingdom together." (CAPC)
These five years have been marked by trials. One after another, we have struggled to catch our breath. We look at our marriage and wonder, have we really gotten anywhere? But the roots. They give me so much hope. Our thin little branches hold on for dear life, but beneath the surface are roots spreading deep: anchoring, steadying. We don't have the strength to reach to the sky but instead we've dug into the earth. It's why we can "consider it joy whenever we face trials of various kinds"–because we have the promise of ever-deepening roots, of a God who is faithful to see that no moment is wasted; that His people, though weary and war-torn, are being shaped and molded and fashioned into the very image of His Son.
You learn a lot about a man by watching how he treats his mom. I'd heard that before, but never really understood until I watched my husband care for his dying mother. Watched him lean in and listen to her soft voice. Watched him tenderly lift her failing body–the one that carried and nourished his life. Watched him sing to her while her eyes lay closed, tears streaming. Watched him stand by her side while she took her last breath. Watched him lead his family in the Lord's prayer at her graveside.
Respect grows in those unexpected moments, where you watch your husband just be who he is and you wonder how you ever got so lucky.
Deepening roots: unseen, unknown, whispered growth that takes a lifetime.